August 30th, 2010
Grow Thicker and More Bountiful By Hair Brushing
I am proud to announce that I have finally found the best hairbrush to assist in actually making your hair thicker. This is the hair gardening tool you never had.
A hand made Italian brush, flawless in it's design. This remarkable brush persuades your hair to grow. Wooden bristles gently massage the scalp and move your natural oils through out your hair. This brush effortlessly assist and support of good blood circulation, eliminates excess sebum absorption and removes scalp impurities, by means of a thorough scalp massage.
Massaging the scalp helps promote hair growth and stimulate acupressure points. The hair becomes thicker, more bountiful, and, I am not kidding!
I am also impressed, that the "Widu" brush company has an integral environmental policy. These brushes are made from "Forest Stewardship Council" certified wood, and the finish is of natural Linseed oil and Bees wax. No toxic lacquers. A hair stylist in Milan created the design of the "Widu" brush. I could not have come up with a better design for a brush myself.
The brushes are hand made by artisans with brilliant old-world craftsmanship. These brushes are well made and designed to last.
I now have been using and selling this brush for over two years. I have observed, that my clients using this brush (for three to ten minutes three times a week) enjoy much healthier hair, much more shine, holds color longer, fine hair looking thicker, and problem scalps become healthier. I do believe that brushing your hair with a brush of this quality is half the journey to accomplishing a beautiful hair.
Linda Kammins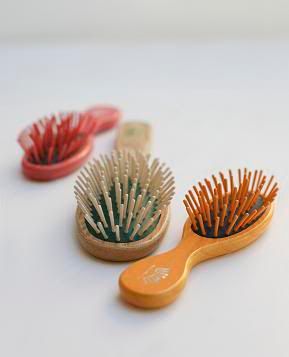 For a happier healthier living